Van Loading Ramp
Innovative, without hydraulics or electricity.
TÜV and GS quality mark.
Loading platform with patent and TÜV-GS certificate.
3-point mounting with a telescopic column.
Large choice of dimensions and carrying capacities.
Innovative opening and closing system with servo support.
Suitable for many vehicle types.
Turns away as a back door (see image).
Light and easy to operate.
Adjustable foot.
Servo assisted loading platform with steel box girder construction and aluminum tear plate bottom. Anchoring in the vehicle by a telescopic column. Support in a lying position by means of self-positioning legs.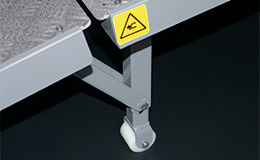 Load capacity: from 600 kg to 1500 kg
Useful width: from 800 to 1350 mm
Useful length: from 2000 to 3000 mm