LIGHT SHELF
Light shelf shelving systems have been tested for many years on thousands of vehicles used by express couriers with excellent results in terms of sturdiness and reliability. Available in various lengths and configurable to suit the customer's needs, these foldaway shelves can be used to optimize and considerably increase the van's carrying capacity.
Benefits of the Light Shelf:
6 shelves in height;
Available in 7 different lengths;
Capacity up to 120kg;
Compatible with containers with standard European measurements;
Holes on all shelves for housing and fastening standard aluminium partitions h 50 mm or arched partitions h 300 mm;
Possibility of adjusting or adding shelves in height at a distance of 38 mm, due to side brackets interlocked into the perforated uprights;
Possibility of inserting anti-slip mat.
More information via +3188 1301 400.
With our 3D drawing, we can equip your vehicle with the shelves.
We are happy to make a tailor-made offer for you.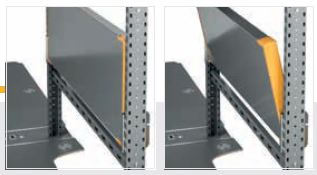 Closed position 1 – Closed position 2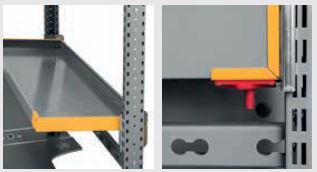 Open position – You can open it with one hand